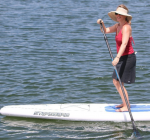 While the ocean's depths are a mystery, its surface can be your playground. Conquer your fear and progress from being a beachcomber to experiencing the joy of windsurfing and paddle boarding!


1. Set your own pace
There are a vast number of ocean activities, ranging from the tranquility of paddle boarding to the fast-paced thrill of windsurfing. No one says you have to start with riding high-cresting waves. Find what suits your style. If enjoying the natural elements and creatures is your preference, then a leisurely eco-tour through the Florida mangroves may fit your needs. More into action and thrills? Start your adventures with windsurfing!
2. Feel inexperienced? Take lessons!
We are land creatures by birth and sometimes need help learning the ways of the ocean. An experienced windsurfing guide can make sure you have a blast, while also staying safe. Beginner lessons ensure you first feel comfortable with the gear on land before heading out into the waters. Once you get your sea legs, more advanced lessons can propel you forward. Don't let the fear of not knowing stop you from trying!

Sign-up for beginner Windsurfing or Paddle Boarding lessons to start your adventure!

3. People fall down. It's okay. It happens.
You won't be the first to fall and are certainly not the last. Our professionals can help you get back on and try again! If your swimming skills aren't the best, life jackets can be provided for additional floatation and peace-of-mind.
4. Remember, you are more likely to be injured by a toilet than a shark.
Need I say more?
5. Don't let fear prevent you from a new experience.
It can be difficult to take the initial leap into something new. Imagine all of the instances when you encountered something that wasn't nearly as scary as you thought it would be. And perhaps it was even fun! Dread and excitement are two emotions on the same scale. Be brave. Try something new. Who knows? Windsurfing or paddle boarding might become your new favorite hobby.