Windsurfer LT with an Aerotech Wind/SUP Rig - Windsurfing and SUP Fun
This package brings together the Windsurfer LT board in the flat deck configuration with the Aerotech WindSUP rig to get you out on the water fast and in style! Just choose the size of sail that works best for the size of people who will be using it and the amount of wind you typically have. This combination will have great glide across the water and is easy to set up - perfect for your lake or beach house so everyone can have fun on the water.
The Board
Old school windsurfing is new again! If you're in the market for a can-do-everything board look no further, the Windsurfer LT is the board to have no matter the conditions on the water. This 12' by 29" board is designed to excel in low wind windsurfing while providing plenty of stability making it perfect for learning windsurfing and advancing to more advanced skills such as freestyle sailing and racing. This long board sailboard also makes a great paddleboard for those times that you show up to the beach and there is no wind. The Windsurfer LT construction features a lightweight EPS core with a fiberglass and epoxy resin system making it built for longevity while keeping the board lighter than most Wind/SUP boards on the market (15kg or 33lbs) making it much easier to handle while windsurfing and paddling alike.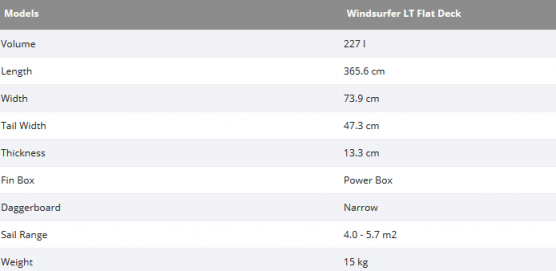 The Rig
The WindSUP is all about making windsurfing simple again, without losing the advantage of modern technology. The sail can go from the roof of your car to the water in under a minute. Just pull the mast bag off, fold the boom down and roll the sail out. Attach the outhual and you're ready to go! With vertical battens, this sail can roll up on the mast, so it offers the convenience of keeping the sail on the mast but still maintains a modern outline with a fat head and increased area below the boom. Pop this on an SUP or any longboard and remember how fun windsurfing can be in 5 to 10 knots of wind.
Construction: Durable dacron sail with vinyl window 2-pc composite mast (370 for 4.0>, 430 for 4.8<) Adjustable clamp-on boom Uphaul Base Storage bag fits over rolled up sail and allows you to keep your boom attached.