Skip Navigation
Website Accessibility
Starboard Take Off w/ Glider Glass Foil Package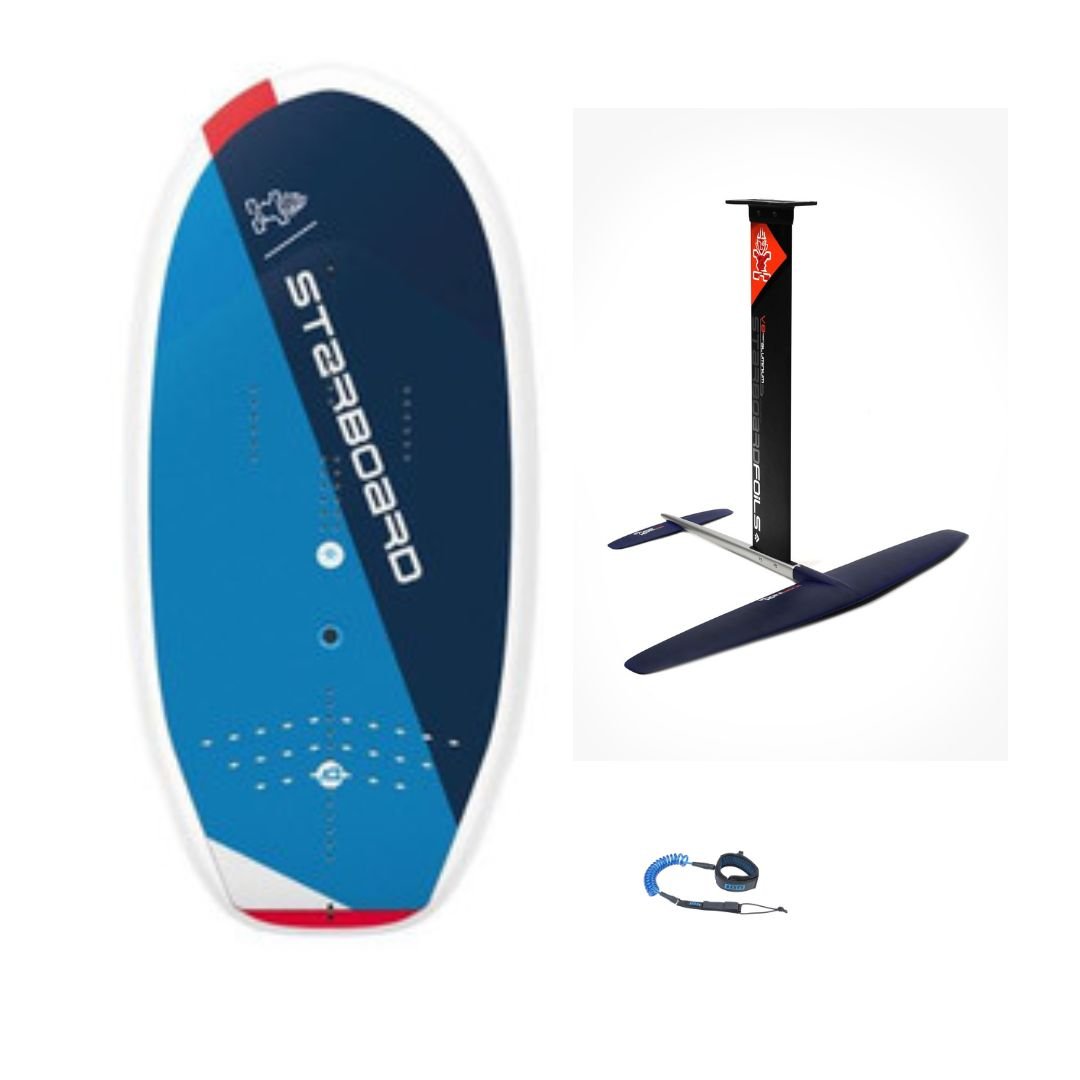 Package includes board, foil, mounting hardware, and board leash.
Starboard Take Off with Starboard Glider Glass Foil
The Take Off is the Wing Foiler's board of choice for anything wing, foil surf, foil downwind and more. This is a true all-round foil board that caters for first-time flyers getting started in foiling all the way through to experienced foilers looking to get high and go fast.
This is a completely new concept through and through with an all-new bottom shape, release edges, rocker, volume and outline. You name it, the 2022 Take Off Foil Board has it.
Our super small size range with high volume means riders can ride smaller boards than ever before. This new range allows for riders to go down in size by around one foot in length. Smaller size, easier riding in a higher performance package.
For this package, we've combine the Takeoff with the Starboard Glider foil. The Glass series are entry foils that are fully compatible and upgradable with Starboard Foils' Modular Foil Platform. The blue G100 wings are made from a pre-preg glass sandwich construction. The one-piece fuselage uses a non-adjustable Quick Lock II system for the front wing fitting. All Glass series foils come with the V8 aluminium mast system.
Foil Comes with:1400 Glass G100 front wingRAZR 250 Glass G100 tail wing66cm Hybrid Fuselage82cm V8 Mast


Model
7'1" x 32"
6'4" x 31"
5'7" x 29"
5'2" x 27"
4'7" x 24"
Rider Weight
SUP Foil: 120 kg
Wing Foil: 140 kg
SUP Foil: 110 kg
Wing Foil: 120 kg
SUP Foil: 95 kg
Wing Foil: 105 kg
SUP Foil: 85 kg
Wing Foil: 95 kg
SUP Foil: 65 kg
Wing Foil: 85 kg
Length
7'1" / 215.9 cm
6'4" / 193 cm
5'7" / 170.2 cm
5'2" / 157.5 cm
4'7" / 139.7 cm
Width
31" / 78.7 cm
32" / 81.3 cm
31" / 78.7 cm
27" / 68.6 cm
24" / 61 cm
Thickness
4.2" / 10.7 cm
4" / 10.2 cm
4" / 10.2 cm
4.4" / 11.2 cm
4" / 10.2 cm
Tail Width
21.7" / 55 cm
22.8" / 57.9 cm
24.9" / 63.2 cm
25.8" / 65.5 cm
26" / 66 cm
Volume
150 L
130 L
110 L
90 L
70 L
Fin Set Up
US Box 12"
US Box 12"
US Box 12"
US Box 12"
US Box 12"
Weight
BLUE CARBON PRO: 8.6 kg (est)
BLUE CARBON: 8.9 kg (est)
LITE TECH: 10.5 kg (est)
BLUE CARBON PRO: 7.6 kg (est)
BLUE CARBON: 8.0 kg (est)
LITE TECH: 9.5 kg (est)
BLUE CARBON PRO: 6.7 kg (est)
BLUE CARBON: 7.2 kg (est)
LITE TECH: 8.4 kg (est)
BLUE CARBON PRO: 6.0 kg (est)
BLUE CARBON: 6.3 kg (est)
LITE TECH: 7.4 kg (est)
BLUE CARBON PRO: 5.3 kg (est)
BLUE CARBON: 5.7 kg (est)
LITE TECH: 6.4 kg (est)