Skip Navigation
Website Accessibility
Starboard Wingboard Lite Tech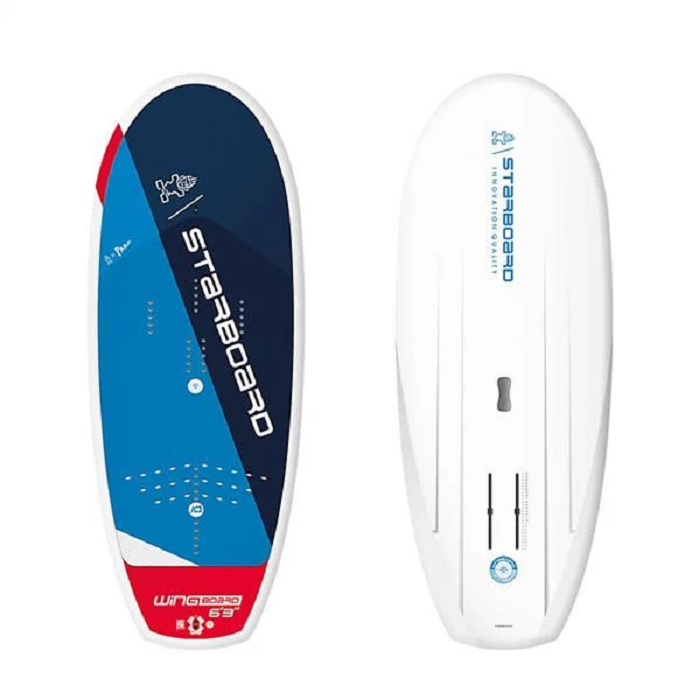 Please let us know if you have any questions or concerns! 727-656-6569
Starboard Wingboard Lite Tech (2022)
The new Wingboard range from Starboard takes design inspiration from our high-performance SUP foil boards and Olympic class Windsurf foil boards – combining the speed and efficiency of foiling with the power of the wind. The goal of the Wingboard Foil is to give you maximum performance in a small size while catering to your level, from beginner to expert. These boards are quite stable for their size due to the boxy rails, square nose, and extra platform at the tail. Starboard keeps the board relatively thin over the foil, to keep your feet closer to the foil and give you stability on the foil as well as on the water's surface. The flat tail rocker and sharp rails get you up to foiling speed quickly, so you can effortlessly glide onto a foil.

SIZES:
-7'4" X 32.5" X 160 liters - The largest Wingboard size, ideal for getting started with the ins and outs of Wingboard Foiling. The 7'4" is the highly anticipated board for the bigger guy, enabling riders up to 115kg to foil like never before.
-7'0 x 31" x 145 liters - A progressive board for starting out in Wingboarding. The 7'0" is large enough to cater for riders up to 110kg while still a compact and maneuverable design.
-6'3" x 28.5" x 115 liters - The mid-size Wingboard is the ideal balance of stability, glide, and maneuverability for riders up to 100kg
-5'2" x 30" x 100 liters - Catering for larger riders while remaining in a compact size. The 5'2" has plenty of volume and width, making flying easy and maneuverable. Offering high-performance riding to riders up to 100kg.
-5'2" x 27.5" x 90 liters - A high-performance Wingboard that boasts great maneuverability and performance, yet still allows riders up to 90kg to ride with ease.
-4'9" x 26" x 70 liters - Flying is just the beginning with our highest performance Wingboard. The 4'9" is an ultra-compact design that boasts the best maneuverability for advanced riders.

Lite-Tec Construction:
• Extra rigidity with the introduction of unidirectional stringer bands and solid with added rail / nose reinforcements.
• Australian pine on the standing area for extra impact resistance and rigidity in the most critical area.
• Comes with shoulder carry strap inserts. Starboard shoulder carry strap can be purchased after market.
• All inserts have added high-density foam reinforcements.